The World's Only Foldable Treadmill That Saves Space In 2023
 Best choice for running and walking. The truly foldable treadmill takes up 90% less space.
Key Features:
Footprint: 56 inches long by 21 inches wide
Warranty: One year
User weight capacity: 220 pounds
Speed levels: 0.5 to 3.7 miles per hour
Tech features: None
Motor: 746-watt brush motor
In the conventional form, it is a treadmill; When the handrails are folded, it becomes a desk walking treadmill so you can walk while working.
Superior Foldable Design
Conventional treadmills are enormous and occupy unnecessary space. R1 Pro incorporates a unique dual folding mechanism, the deck and handle can be easily folded up for compact and simple storage.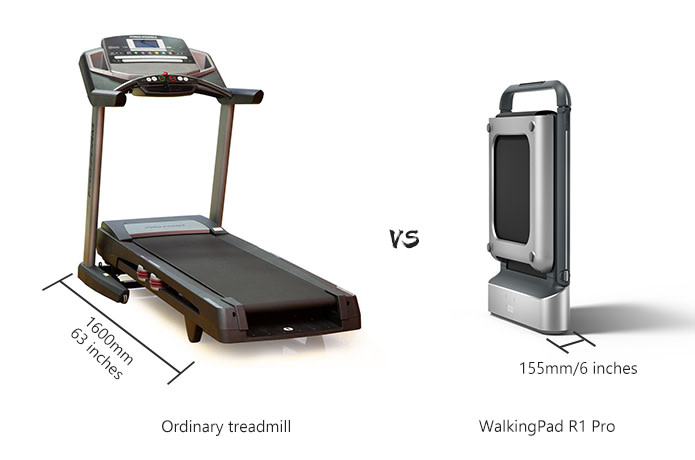 Easy To Move
With smooth-rolling wheels attached, the is guaranteed for easy transport.
Multi-Scene Suitable Easy Integration Into The Office
This is a popular office-use treadmill. Armrest down to be put under the desk, helping change the sedentary status of daily desk work.
Hidden Phone/Tablet Holder
We designed a dedicated slot for phones and tablets on the handle, so you can always stay entertained and connected.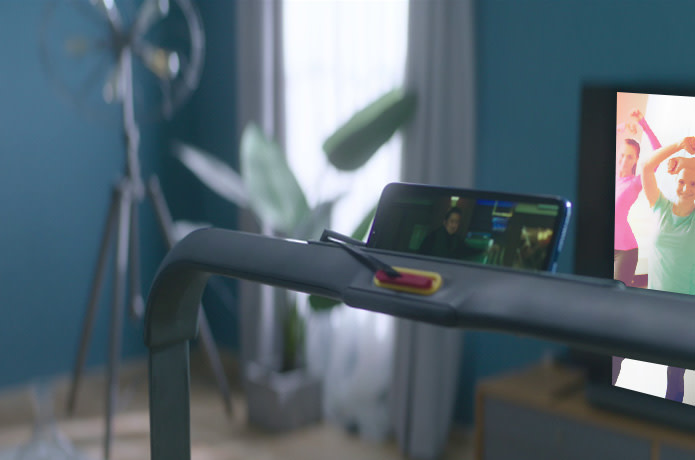 Safety Clip and Handle
The has a newly added safety clip and front handle to keep you safe while you exercise. The handle provides additional balance while the safety clip acts as an emergency stop button.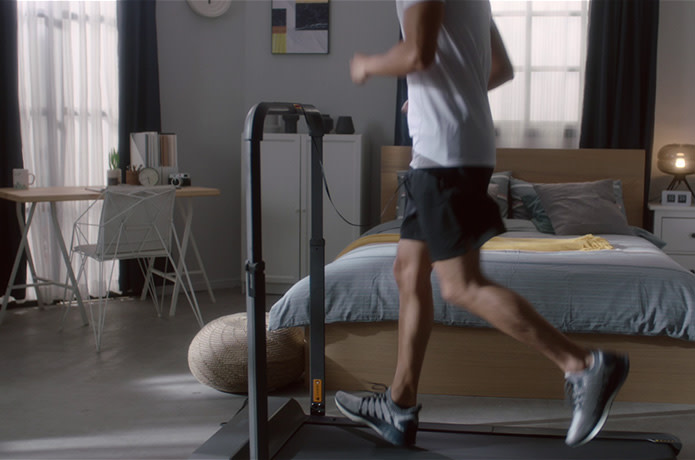 Durable Framework
 The frame is made of one-piece aluminum alloy, thin but more durable.
Multi-light Adaptation For Improved Eyesight
Advanced manufacturing technology is used to combine LED light groups with the display
screen, providing instant access to sports data.
The Low-noise Brushless Motor Lets You Enjoy Your Exercise In Peace.
It is equipped with a new brushless motor that produces less noise and has a higher load-bearing capability; after extensive testing, it has been shown to be steady and reliable.
3 Control Options Ensure A Simple Operation.
In walking mode, HD has three control options. In "M" mode, the speed may be modified through the remote control; in "A" mode (for walking mode only), the speed can be adjusted based on the position of the step. Additionally, the KS Fit App is an excellent alternative for mode selection and operation.
Beautiful And Long-lasting Frame
The frame is constructed from a single piece of lightweight and sturdy aluminum alloy.
Repeated Optimization Creates A Nice Sensation In Your Foot.
The frame is constructed entirely of a single-piece aluminum alloy that is lighter yet more robust. Running belt – it is durable and non-slip; your foot will feel secure when you run. Smooth layer – it offers users less friction and more stable operation. EVA soft layer – its supple and flexible properties absorb shock and protect the knees. High-density fiberboard – its sturdy and lasting characteristics contribute to a safer running experience.
Technical Parameters
Product Name :
Portable Professional Treadmill
Motor :
Brushless motor
Panel Craftsmanship :
IML injection molding
Power Input :
918 W
Display Feedback :
Time, Speed, Distance, Calories, Steps
Speed Range :
0.5 – 6.2MPH / 10KPH
Unfold Size :
57.48 * 28.35 * 35.43in / 1460 * 720 * 900 mm
Folded Size :
38.5 * 28.3 * 6.1in / 980 * 720 * 155mm
User Capacity :
440 lbs / 200KG
Walking Area :
47.2 * 17.3in / 1200 * 439mm
Sport mode:
Walking mode / Running mode
Voltage :
US Version: 110V | UK Version: 220V | EU Version: 220V | AU Version: 110V
Package Included
WalkingPad * 1
Power Cord * 1
Remote Control * 1
Remote Control Lanyard * 1
Allan Wrench * 1
Dimethicone * 1
Packing Detail
Net Weight :
72.75 lbs / 33kg
Gross Weight :
83.77 lbs / 38kg
Additional Option
APP :
Available for both IOS & Android
Color option :
Silver